By 1939 there was a growing need for personnel to man the English Catholic schools. A movement for a separate institution emerged. Some of the officials who lobbied for the change were James Lyng of the Montreal Catholic School Commission (MCSC); Principal Michael McManus; Edson Wescott, Provincial Inspector; Gerald Coughlin lawyer and member of the Catholic Committee; and, Father Emmett Carter, a young Inspector for the MCSC. In February 1939 along with the strong support of the Archbishop of Montreal Msgr. Georges Gauthier, an institution for the education of English Catholic male teachers was created (See Photograph of the Class of 1939-40) and named The Jacques Cartier Normal School, English Section. Some students included John Scullion, Vincent Patton, Leo Sanchini, Brendan Fahey, Tom Francoeur and Martin O'Hara. Subsequently the Edward Murphy School (EMS) was established on Craig St. E., Jacques Cartier Normal School's first student teaching school.
In 1940 The Catholic High School Examination Board was created.

Sunday afternoon, March 1948, the Jacques Cartier Normal School building in Park Lafontaine caught fire. The student teaching centre moved to St. Thomas Aquinas School in St. Henri for next 4 years. The Jacques Cartier Normal School Building on Lafontaine Park was rebuilt and re-opened in 1952.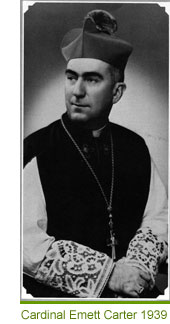 1950 Five nuns from Quebec's religious order, the Sisters of St. Ann's, enrolled in the Jacques Cartier Normal School-English sector. However, it was not until 1953 that an official female segment of the Jacques Cartier Normal School was developed. Prior to 1953, female teachers trained at the Sisters of the Congregation of Notre Dame at Notre Dame College and at Marianopolis College.